Our nation's animal shelters don't have the resources to save the overwhelming number of accidental litters, strays and family pets that are brought to their doors every day. As a result, nearly half of the 8 million cats and dogs who enter shelters each year are put down. At Wagz 'n Whiskerz Pet Sitting, we know that we cannot save them all but are committed to helping where we can.
This passion for the animals became the reason we launched our Pet Sitting With a Purpose Campaign. We are so grateful for the many loved family pet companions that we get to care for each and every day. But we don't want to stop there. We are determined to put "our money where our mouth is". We donate a portion of our proceeds to local rescue and pet care organizations that are making a difference in the lives of unwanted pets. We will be working with these organizations to spread the word about what they do and their commitments to the pets in our community.
Every visit we do with every client helps us to support these worthy organizations. We invite you to learn more about what they do and know that your business helps us help them. And please – we encourage you to spay and neuter your pets.
Family Addition Dog Rescue of Charlotte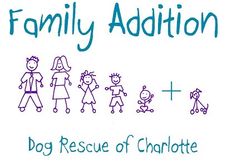 Completely staffed by volunteers, Family Addition serves to provide homeless shelter pets the opportunity to find forever homes. Once a dog is pulled from the shelter, they are provided with veterinary care and placed in a safe foster home until they are placed in a loving, forever home. Most of the dogs that Family Addition rescues come from Charlotte Mecklenburg Animal Shelter and Rowan County Animal Shelter. Wagz 'n Whiskerz proudly supports the work being done by Family Addition Dog Rescue. We often invite some of the Family Addition dogs and puppies to accompany us when we participate in local events such as Bark in the Park or The Sheep Dog Trials in order to spread the word about the amazing work that they do.
Lake Norman Lucky Cat Program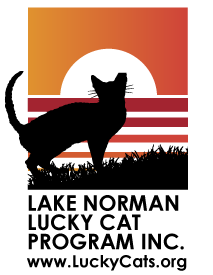 Feral cats are domestic cats that have become wild and no longer desire human contact. Many of these cats were previously family pets that were abandoned and left to fend for themselves. These cats form colonies that include litters of kittens born in the wild. Since 1998, the goal of the Lake Norman Lucky Cat Program is offer an alternative to the proven unsuccessful trap and kill method of population control for ferals. The humane approach of Trap, Neuter, Release (TNR) provides a method to control feral overpopulation and colony stabilization. Wagz 'n Whiskerz Pet Sitting applauds the work of the Lake Norman Lucky Cat Program and supports their efforts by providing monetary support for their cause. You can learn more about Lake Norman Lucky Cat on their website.