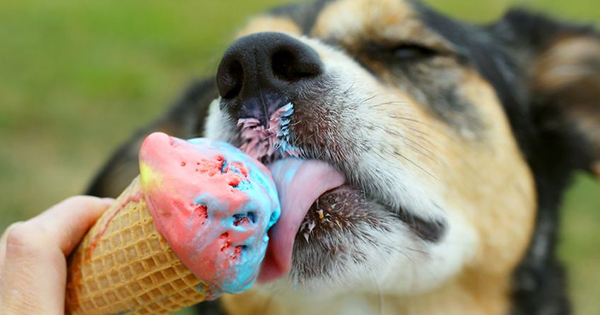 During hot summer months, your pets like a cool treat as much as you do! Fortunately, you can share some human treats with your pets and you can make treats for them without much effort.
Apple slices are healthy snacks for dogs. They can have pieces of the apple however do not give apple seeds to your dog. Cut the apple from the core and into small pieces and refrigerate. Other fruits that can be given to dogs include bananas, watermelon (remove seeds and rind), blueberries, pears (remove pit and seeds) and mango. Cold or frozen veggies can make great summer treats for your dog as well and include carrots, green beans, cucumbers and sweet potatoes.
Yogurt can also be a cooling treat from the refrigerator or freezer. Be sure to select plain yogurt with no flavoring, sugar or sugar substitute. You can freeze in ice cube trays and add small pieces of fruit for a convenient snack.
Other frozen treats include slices of pumpkin without seeds (or frozen canned pumpkin), pineapple, and peanut butter. Peanut butter can be put inside of chew toys like Kongs. You can add a few baby carrots, apple pieces or some kibble into the Kong and cover the hole with peanut butter before freezing. These make great treats and can be used to help keep dogs from getting bored while you are away.
Of course, give treats in moderation along with a healthy diet and beware of the artificial sweetener Xylitol that shows up in gums, candy, baked goods and some peanut butter. Xylitol is extremely toxic to dogs. Even small amounts of xylitol can cause hypoglycemia (low blood sugar), seizures, liver failure or even death in dogs.
Cats like a few human foods, too
Surprising to many, cats also enjoy fruits, such as frozen mashed bananas and fresh cantaloupe. Some also enjoy apple pieces without the peel and fresh or frozen blueberries. Since cats are carnivores, you can also share a few chunks of chilled baked chicken or tuna.
At Wagz 'n Whiskerz Pet Sitting, your pet's health and comfort are our primary concern. We are delighted to share healthy treats with your pets. Call us at 704-615-6566 or visit https://wagznwhiskerz.com today to schedule visits during your summer and fall travel.
Resources